GPS / GIS Services
The Utility Industry is at the forefront of GPS and GIS technology use. From electric, gas and water utilities to telecommunications companies, geospatial technologies are making it easier for utility workers to manage their complex field assets.
R&M provides GIS data in a variety of formats according to each customer's needs. We work directly with our customers' GIS/IT departments to provide seamless integration of their spatial data, maintenance management data, asset data, and inspection data into their GIS systems. Whether the need is for shapefiles, geodatabases, traditional database format, spreadsheet or paper; R&M customizes a solution to suit each customer.
Fire Hydrants
Assessing and maintaining Fire Hydrants is fundamental in Distribution System Management in order to protect the public welfare, improve a utility's ISO rating and can aid in maintaining water quality when incorporated into an organized flushing program.
A number of conditions can affect a hydrant's performance including Water System improvements, changes affecting zone valve settings, usage changes, damage from accidents or vandalism, wear and tear, deterioration, mechanical malfunction and work performed on water lines without hydrant isolation valves being reopened. Uncovering any of these problems and correcting them prior to the hydrant being needed is imperative to determine fire hydrant capabilities in the event of an emergency.
In addition to determining fire flows, testing can uncover mechanical problems from valves that don't operate properly, to leaks and even pump damaging debris flowing from hydrants. Flow test data also provides essential field information to aid water service planners and the Fire Prevention Bureau to accurately estimate water main capabilities. Water main and hydrant flow capabilities influence decisions about required fire protection and fire resistance features for new developments; where priorities should be placed; and Water System upgrades of older, smaller water mains.
R&M's Fire Hydrant Maintenance and Assessment program is designed to comply with AWWA Waterworks Distribution Standards (M17) and meet the requirements of environmental oversight agencies.
Hydrant Repair / Replacement / Installation

Hydrant Maintenance / Assessment
Valves
Valve exercising is the single most important form of preventive maintenance for improving reliability for the water distribution system. Under normal operating conditions main line valves are fully opened and fully closed only when isolation of a portion of the system is needed. Valves that remain in either position for extended periods of time become difficult or even impossible to operate.
Additionally, critical valves MUST be operable at any given moment. Therefore, they should be exercised regularly; and more often if the water is corrosive or dirty. The more frequent the valve exercising program, the greater the chance that they will operate when needed.
Valve Replacement / Installation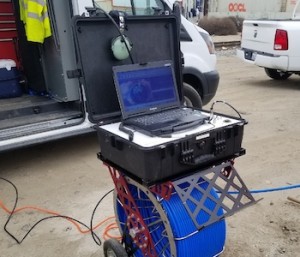 Pipe Diagnostics
Pipe Diagnostics A pipe diagnostic program can provide the necessary data to not only pinpoint leaks within your systems but also provide critical data that is necessary to determine the current condition of your infrastructures.
R&M's Pipe Diagnostics Program Includes:
Leak Detection – we utilize acoustic technology to identify leaks in your system
Pipe Condition Assessment – CCTV inspection of your pressurized water pipes
Illegal Pipe Connection Locate – identify illegal connections within your system
Mapping of Lost Pipeline/Valves – GPS/GIS tracking and mapping
Valve Assessment– determine open or closed broken valves